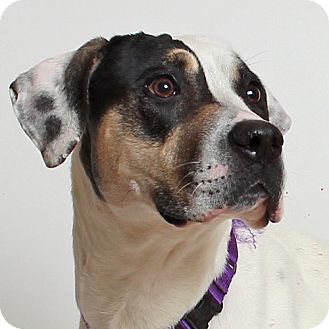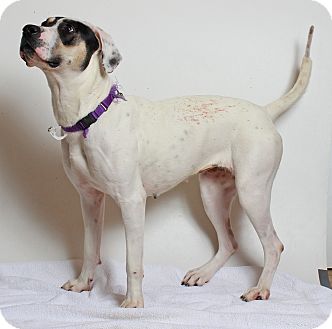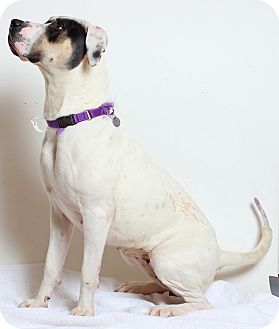 I'm Molly, Adopt Me!
Hound (Unknown Type) Mix | Adult | Female
1 1/2-year-old Molly is a friendly, wiggly gal who would love to find an equally outgoing adopter. Molly would make a great hiking partner, jogging buddy, and co-pilot. She loves to play ball, and she can't wait to do some training for tasty treats. Molly may need a little more activities than the average dog, but she'll love every minute of it! Molly has a positive history with other dogs. We recommend Molly take a Basic Manners class where she can learn polite ways of seeking creature comforts in life. She currently weighs 57 pounds.
Molly's adopter must be at least 18 years old with valid state-issued identification. ARF encourages family members to participate in the adoption process, especially children and family dogs. Please visit ARF's
web site
for information on adoption and to view more cute canines.
Adoption Hours at ARF
2890 Mitchell Drive
Walnut Creek, CA
Wednesday & Thursday
Noon - 6 pm
Friday
Noon - 7 pm

Saturday & Sunday
Noon - 6 pm
Early-bird sign-in Wed-Fri at 9 am
---
Adoption fees
Cat $75
2 Cats $100
Kitten < 6 months $125
2 Kittens $200
Dog $250
Puppy < 6 months $275
Select animals have pre-paid fees.
Credit card and cash are accepted. No checks please.
Dog and puppy fees include a discount on the first six week session of manners classes.
Array
(
    [shelter_name] => Tony La Russa's Animal Rescue Foundation (ARF)
    [addr_line_2] => 
    [hair_length] => 
    [phone_extension] => 
    [phone_area_code] => 925
    [email] => adopt@arflife.org
    [shelter_desc] => ARF saves dogs and cats who have run out of time at public shelters and brings people and animals together to enrich each others lives. ARF strives to create a world where every loving dog and cat has a home, where every lonely person has a companion animal, and where children learn to care.
    [pet_code] => 35342
    [good_with_dogs] => 1
    [last_modified] => 2017-03-21T21:33:29
    [declawed] => 
    [description] => 1 1/2-year-old Molly is a friendly, wiggly gal who would love to find an equally outgoing adopter.  Molly would make a great hiking partner, jogging buddy, and co-pilot.  She loves to play ball, and she can't wait to do some training for tasty treats. Molly may need a little more activities than the average dog, but she'll love every minute of it! Molly has a positive history with other dogs. We recommend Molly take a Basic Manners class where she can learn polite ways of seeking creature comforts in life.  She currently weighs 57 pounds. 

Molly's adopter must be at least 18 years old with valid state-issued identification. ARF encourages family members to participate in the adoption process, especially children and family dogs. Please visit ARF's web site for information on adoption and to view more cute canines.
    [video_url] => 
    [addr_city] => Walnut Creek
    [shelter_driving_dir] => Adoption Hours:
Wednesday & Thursday: Noon - 6 pm
Friday: Noon - 7 pm
Saturday & Sunday: Noon - 6 pm

In order to ensure a successful match, the adoption process may take an hour or more to complete. Potential adopters should arrive early and allocate the appropriate amount of time for a successful adoption. 

To save time on adoption day, download and complete an adoption survey to bring with you.

Location:
2890 Mitchell Drive
Walnut Creek, CA 94598
    [spayed_neutered] => 1
    [contact_person] => 
    [size] => Med. 26-60 lbs (12-27 kg)
    [color] => Tricolor (Tan/Brown & Black & White)
    [donation_url] => 
    [good_with_cats] => 
    [addr_postal_code] => 94598
    [housetrained] => 
    [addr_line_1] => 2890 Mitchell Drive
    [pet_name] => Molly
    [act_quickly] => 0
    [species] => Dog
    [shots_current] => 1
    [adoption_process] => Adoption fees:
Cat $75
2 Cats $100
Kitten under 6 months $125
2 Kittens $200
Dog $250
Puppy under 6 months $275

Dogs and Puppies include a discount on their first six week session of manners classes.
    [fax_area_code] => 
    [fax_number] => 
    [pet_id] => 17793872
    [website_url] => https://www.arflife.org
    [primary_breed] => Hound (Unknown Type)
    [areas_served] => Contra Costa County, California
    [images] => Array
        (
            [0] => Array
                (
                    [original_width] => 329
                    [thumbnail_width] => 125
                    [thumbnail_url] => http://d1n3ar4lqtlydb.cloudfront.net/a/9/b/255205301.jpg
                    [thumbnail_height] => 125
                    [original_url] => http://d1n3ar4lqtlydb.cloudfront.net/6/c/3/255205299.jpg
                    [original_height] => 329
                )

            [1] => Array
                (
                    [original_width] => 332
                    [thumbnail_width] => 125
                    [thumbnail_url] => http://d1n3ar4lqtlydb.cloudfront.net/c/4/b/255205310.jpg
                    [thumbnail_height] => 124
                    [original_url] => http://d1n3ar4lqtlydb.cloudfront.net/c/9/a/255205308.jpg
                    [original_height] => 329
                )

            [2] => Array
                (
                    [original_width] => 279
                    [thumbnail_width] => 125
                    [thumbnail_url] => http://d1n3ar4lqtlydb.cloudfront.net/0/a/b/255205316.jpg
                    [thumbnail_height] => 148
                    [original_url] => http://d1n3ar4lqtlydb.cloudfront.net/d/4/5/255205314.jpg
                    [original_height] => 329
                )

        )

    [special_needs] => 0
    [good_with_kids] => 
    [phone_number] => 256-1273
    [addr_country_code] => US
    [age] => Adult
    [addr_state_code] => CA
    [automap] => 1
    [sex] => Female
    [purebred] => 0
    [shelter_id] => 77072
    [secondary_breed] => 
)